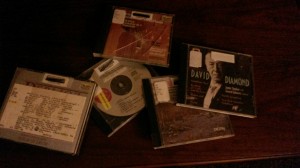 I pulled out a CD I hadn't listened to in a while:  RCA Victor 60757-2 RC, a 1991 recording of music by Ernest Bloch and Max Bruch, with Charles Mackerras, Ofra Harnoy, and the London Philharmonic.  I don't know why I felt like hearing it, except that it sounds really great on my stereo.  My copy is one I picked up a library sale at the Upper Arlington Public Library a few years back, and I actually listened to it when it was still in the collection, before it was deacquisitioned and I picked it up for a buck or so.  The case is cracked, the booklet is missing, and there are no fewer than five stickers between the case and the CD.  I would have encountered it first when it was relatively new, and I was working my way through all of the UAPL's orchestral CDs.  That same day at the sale, I picked up a couple of others–Telarc's recording of Michael Murray playing Joseph Jongen, Robert Shaw's Berlioz Requiem, the English String Orchestra playing Finzi, and one of Gerard Schwarz' discs of David Diamond's music.  Some of these–the Jongen and the Bloch especially–I remember from my high school days in the early 90s, and it doesn't bother me that the Berlioz skips (I know I had it out the summer after my freshman year of college).
I have no idea who was in charge of choosing CDs at the UAPL in the late 80s and early 90s.  It was the era when CDs still had some cachet (for the record, the CD is my personal preference for recorded music, and I think it's basically been downhill since then).  The 90s seem to have actually been a really good time for recorded classical music, in retrospect.  Labels had worked their way through the standard repertoire, and had really figured out how to get good sounds into digital media–the Bloch is stunning when I can get the house nice and quiet, with a presence that is warm and pure.  Wonderful stuff was available, and the rule was that you could check out four CD titles (making multi-disc sets work nicely), and keep them for two weeks.  I'm not sure exactly when I started, but by the time I could drive myself to the library, I was getting my four CDs, playing them into the ground on the vertical-loading boom box in my room while I did homework, got ready for school, or read books (mostly also picked up at the library, about ten books for every four CDs), and then going back for four more, every two weeks, more or less year-round.  After I graduated high school, I fell back into the habit when I came home on breaks, got a public library in Cincinnati, since the University library didn't lend recordings to undergrads, and did the same thing every time I moved thereafter.  The day after I moved back in with my parents in 1999, I was at the UAPL, being told that my tattered card, still in my wallet, was no longer in the system, and on more than one occasion, I have had only my signed apartment lease to present to the librarian in a new town.
But back to the topic at hand:  learning classical music from the collection at the UAPL shaped who I am as a musician and a composer.  Whoever was in charge of building the collection had very specific tastes, and I was introduced to postmodernism before I knew what it was.  Operas by Philip Glass and John Adams were on the menu, as were works by Steve Reich (Music for 18 Musicians).  There was Bruckner (I remember that towering finale of the Eighth Symphony stuck in my head for a full day of school when I was a senior in high school), Mahler (who I didn't understand) and Shostakovich (who I did–the Seventh!).  The summer of 1993, I was obsessed with the Ring cycle, and listened to all of it on Deutsche Grammophone, and then again the next summer when I had my wisdom teeth out.  Gorecki, Hanson, Hovhaness, Corigliano, Messiaen.  If I had waited on my formal education to catch up to these, it would have been three or more years before I heard a note.  The wonderful recording of Slatkin and St. Louis with Vaughan Williams and Barber.  The symphonies of Sibelius and Nielsen (how could a seventeen-year-old boy not pick up something called "The Inextinguishable?").  Blomstedt and San Francisco playing Hindemith.
I could never have bought this many CDs for myself, even if I could have found my way to such things.  I could have asked my parents, but the money probably wasn't there.  I had the beginnings of my own collection, but wouldn't have known what to get if I had somehow gotten the money.  Over the years, I have bought a few of those recordings–Gorecki, Hovhaness, Hindemith–but for the most part, they are housed in my memory.
Arguably, today's budding musicians have access to all this and more, and more easily.  But what Spotify, Amazon, and the rest miss is the curated aspect of that collection.  The UAPL didn't have everything, but what it had I today recognize as being strong, and more important, deliberate (yes, there was the expected "100 Great Melodies of Classical Music" and a plethora of Cincinnati Pops recordings as well, but I quickly found my way around those things).    Someone–again, I never found out who–picked out those recordings, exercised taste, built a collection–not just a mass of CDs, but a collection of interesting, relevant, and important recordings.  And those CDs, coming home with me four at a time, made me a musician, then a composer.
I was an innocent, finding my way through what seems like a much richer landscape than we see today.  If I had come to the library, and there had been nothing but compilations and crossover, I would be a different person today.  Who is guiding today's seventeen-year-olds?  Can they blunder into John Luther Adams and Nico Muhly the way I fell into Phillip Glass and Henryk Gorecki?  Who is curating for them?  I'm fairly certain that there is no algorithim that can bring a young ear to a relatively broad (although my listening in those years had holes), yet also targeted and interesting sense of taste in the same way.  With the Internet, it is perpetually "People who purchased… also bought," or "Pay extra and you can skip an unlimited number of times."  The freedom to browse, to try on, to walk around in music, confident that some human being spent part of a limited budget to put that music in your path–this is what I had in the early 1990s on Tremont Road.  And so I'll put on my Bloch and Bruch CD again, and remember the time when it, and my ears, were new, and again feel gratitude to that curator I never met.